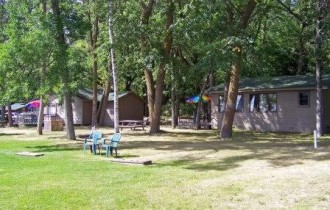 Welcome to the Starr
We have been diligent in providing the very best Starr Vacation for our guests.  Since purchasing the Royal Starr Resort in 1997, we have either remodeled and or rebuilt every cabin.  We added cabin 10 and 11 for the 2001 season, 12 and 13 for the 2005 season and removed and built the new cabin 4 and 5 which opened for the 2007 season.  We are confident you will agree, these are some of the nicest, best equipped and decorated cabins in the Nevis/Park Rapids area.
All cabins are equipped with the same/similar items:
Royal Starr cabins are on level lake shore, with the sandy swim beach in full view. Each cabin has a knotty pine interior, splendidly decorated in Up-North motif. Great/living rooms and bedrooms are carpeted. Kitchens have a full complement of dishes, flatware, cookware, toaster, coffee maker, microwave, refrigerators with freezer, and vacuum cleaners. Air Conditioners are optional but available for any/all cabins.
Every cabin has at least one queen size bed, in most cases there are multiple queen size beds. (Cabin 13 has a King size bed) in addition to two queens a single and double. All cabins (except cabin 6) have full baths i.e. tub and shower. All the new cabins (4, 5, 10, 11, 12, and 13) have vanity areas built into the bedrooms complete with sink, mirror, ground fault plug-ins. Cabin 1 also has a vanity area built into the second bedroom. Cabin 8 now has sink and vanity areas in each bedroom. The new cabins also come furnished with fireplaces and dishwashers, hot water heat in the floors.
All cabins have private lake side decks, furnished with chairs, tables with umbrellas, charcoal grills and family size picnic tables.
All Cabins have a base rate which includes a given number of people. These numbers may vary depending on the cabin selected. Additional people can be added to the cabin to reach the cabin maximum sleeping capacity. This number also varies depending on the cabin selected.
All cabins are housekeeping. We provide the clean fresh bed linens, all you would need for kitchen activities. You provide your own kitchen and bath towels, paper products, personal soaps etc.
Rates are subject to 1.0375% Minnesota State Sale Tax, Local Tax and/or Surcharge. See our reservation page for Seasonal rate and cabin pricing.
And of course, all cabin interiors are Non Smoking (Smoking area is provided for on the decks).